The construction of the 330 m tall tower in Pyongyang, North Korea began in 1987. It has a total 360,000 m² (3.9 million ft²) floor space and 105 stories. The building should have been opened in 1989, by that time it could have been the tallest hotel in the world and the 7th largest skyscraper. North Korea have spent ~$750 million or 2% of the country's GDP on the Ryugyong Hotel. The hotel was designed to have 3,000 rooms, 7 revolving restaurants, casinos(!), nightclubs(!) and Japanese lounges. In 1989 -the original completion date- they had several construction method and material problems therefore the opening was delayed, but in 1992 the construction came to a complete halt due to funding problems, electricity shortages, and the prevailing famine.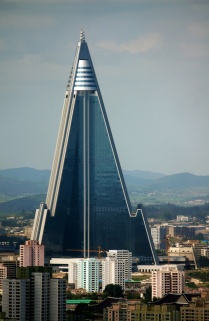 2011 Update: in July 2011 the exterior work on the facade have been finished. Final completion will be in 2012 when the hotel starts to operate.
2008 Update: After 16 years Ryugyong Hotel is starting to get back to life. Egypt's Orascom group has recently begun refurbishing the top floors of the tower.